Copyright(c)2000
TSUKIJI SUGOROKUKAN

Professor X. Jie YANG's Lecture
A transliteration of
"Tori-tsukusi hatsune Sugoroku"
Tori-tsukushi hatsune Sugoroku is supposed to have been made in late Edo era, features word play with 'tori (bird)' such like Muko-tori, Kyaku-tori and then the goal is Miyo-tori.
Here are the transliteration of the writing in each block. You can find here the common people's living with full of playing mind vividly enough
Click whichever block you like!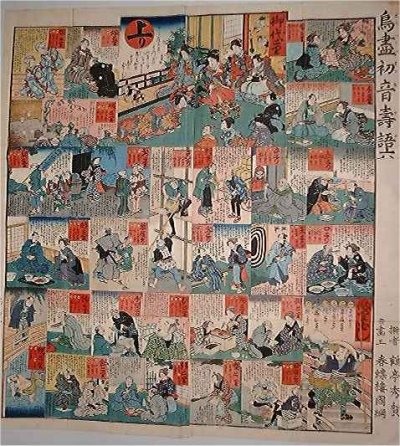 *The transliteration here is made by Professor X. Jie YANG of the University of Calgary. Prof.
Yang's profile | Prof. Yang's homage

*"The Big Edo Prints" has been edited by BAO (our presidentr!) so randomly from the books as below;
"An Illustrated Book of Big Edo by a Knowledgeable" edited by Hanasaka Kazuo, published by Shufu-to-seikatu-sha
"An Exploration of Recruitment Advertisement History in Japan" by Watanabe Yoshiko, published by All Japan Recruitment Magazine Committee
"A Pictorial Book of Life and Scenery on the Street in Edo" by Kikuchi Kan-ichiro, published by Heibon-sha
"Japanese History" by Anzo Fukuya, published by Kensu-shoin
"An Encyclopedia of Life and Fashion in the History of Japan", published by Kobundo
"A Collection of Life and Fashion in Post-modern Age in Japan" by Kitagawa Morisada